Want to Know about Toxics in Your Own Community?
Today, there are ways to get some information about your own community online. Listed here are a few websites that can help you. Much of the information you can find out about companies is information that the company reports itself. Rarely is there independent verification of the accuracy of that information. Almost all information on companies' environmental records and permits are listed by county or zip code.
Step 1: What Toxics Are In Your Community?
In 1986, Congress passed the Emergency Planning and Community Right to Know Act as part of the reauthorization of the Superfund law. This law is intended for people and emergency workers to know what chemicals are used and released in a community daily and how to prepare for accidents, spills and other chemical disasters.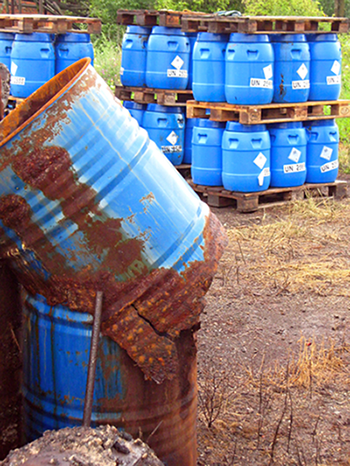 From the Right to Know Network databases you can get information on who has environmental permits in your community, what chemicals are reportedly released into your air land and water, hazardous waste sites, reported spills and more. It helps to know what the Letters stand for (like TRI=toxic release inventory –the chemicals given in pounds that are reported to be released by an industry; CERCLIS =Comprehensive Environmental Response, Compensation, and Liability Act which means a listing of identified hazardous waste sites.). You can do a FINDS or a MASTER search to get started at an overview of your community. Call ECO-Action with questions.
What are known as "Worst Case Scenarios" have been taken off the Internet (in the name of "Homeland Security") and can be viewed by appointment at EPA offices. Check with Working Group on Community Right to Know for latest developments about what information is available and how to get it.
Other sites to use for Finding Out About Your Community include: Scorecard -Environmental Defense website and Where You Live -Environmental Protection Agency's website.
For more information specific to Georgia, see the Environmental Protection Division of the Georgia Department of Natural Resources site includes the following for Georgia specific information:
Browsing by Program, look for these lists in the air, land and water categories:
 Hazardous Site Inventory (Land/Hazardous Waste Management Programs) – a list of sites in Georgia that the state has determined to be the most dangerous ones. (These can be accessed to view details of each site.)
Georgia's Toxic Release Inventory Report (Land/Hazardous Waste Management Programs) – specific to Georgia but same information that can be found at EPA's site or the Right to Know Network mentioned above.
 Hazardous Site Response Notification(Land/Hazardous Waste Management Programs) – These are spills reported to the Emergency Team.
 Fish Consumption Guidelines (Water)
View Proposed and Executed Order on the " Enforcement" page. These enforcement actions became viewable  online as part of the public participation regulations that ECO-Action's Grassroots Environmental Network secured in the late 90s.
Step 2: What Health Effects are Linked to Chemicals Exposures?
The state of New Jersey has an excellent database of chemicals that relates the health effects and proper handling procedures of the chemicals, called the Right to Know Hazardous Substance Fact Sheets.
For information about how chemicals are related to disease, go to the Collaborative on Health and the Environment, an excellent database.