by Lea ONeal, Publisher of Welcome Magazine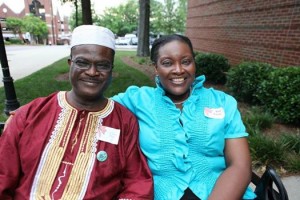 Meet 2014 MECCA Awards Recipient: Armed with a Ph.D. in environmental health and industrial hygiene, Dr. YOMI NOIBI is the executive director of Environmental Community Action, Inc., (ECO-Action). ECO-Action's mission is to help communities organize to confront environmental health threats, and to strengthen and facilitate participation of communities in preventing and resolving such threats. In particular, the organization focuses assistance on vulnerable communities, most often rural residents and persons with limited formal education. ECO-Action is a community partner to the National Institute of Environmental Health Sciences, (NIEHS), the HERCULES Center at Emory University and the Georgia Institute of Technology.
Dr. Noibi has put his name and reputation on the line fighting for environmental justice because Georgia is often near the bottom of the list of states when it comes to policies and programs that benefit the public health and welfare.
In early 2014, he and Emory University's Gary Miller, Ph.D., conducted a podcast titled; "The Exposome." The exposome represents all of the things we're exposed to throughout life, taken together. Some scientists believe studying the exposome could help answer some big questions about what keeps us healthy—and what makes us sick.
Dr. Noibi has dedicated his life to raising awareness of brownfields, (contaminated sites), air pollutants, environmentally sick houses, schools and public buildings as well as toxic mold and asthma related illnesses in children. We say, "thank you" to Dr. Noibi for his support of educational projects that increase the public's awareness of environmental issues in Atlanta and across Georgia.