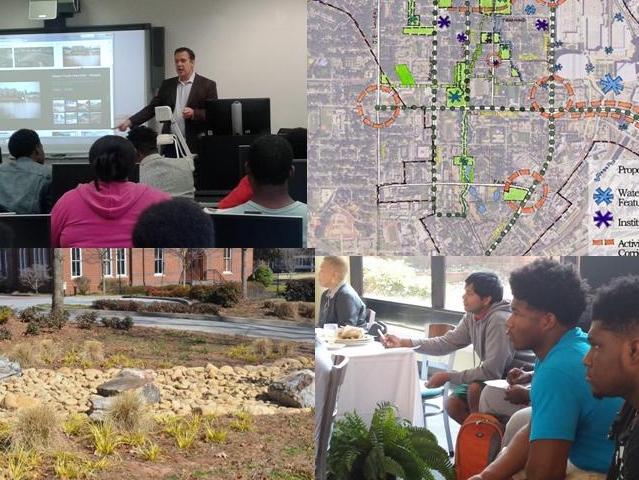 The Green Infrastructure Initiative worked to reduce flooding and improve water quality in Proctor Creek while revitalizing adjacent low-income neighborhoods by creating a Vision for Action. This initiative focused on the higher-elevation Atlanta University Center (AUC) campuses which are the source of much of the runoff to the lower-elevation Vine City and English Avenue neighborhoods.
The project team worked with over 400 AUC faculty and staff to increase student awareness of green infrastructure. Students learned about green infrastructure principles and practices and water quality issues specific to Proctor Creek through science and engineering courses, and service learning projects. After learning how green infrastructure works, students prepared conceptual level reports that described their proposed approaches to capture the 22.4 million gallons of stormwater generated on campus.

"Green infrastructure can improve water quality, attract investment, revive distressed neighborhoods, encourage redevelopment and provide recreational opportunities."


–Enhancing Sustainable Communities with Green Infrastructure
Three community forums were held to provide opportunities for collective engagement of community residents, faculty, students and staff of the AUC colleges.  The process and outcomes were also presented at a public conference, Green Infrastructure, Building Resilience in Proctor Creek Communities, held in April 2016.
The project linked the academic community with leaders of under-served communities to better understand the extent and impact of sewage and stormwater flows from the AUC campuses on the downstream residential communities.
Here are some of the material resources created or presented as part of the Green Infrastructure Initiative.
Resource Links – Conceptual Design Reports

Between September 2015 and June 2016, student groups worked to complete conceptual plans at Clark Atlanta University, the  Interdenominational Theological Center,  Morris Brown College, Spelman College and adjacent properties that drain onto the campuses as well as the Atlanta Housing Authority site. Read more…
Resource Links – Forums and Conferences
Three community forums and one conference were organized which involved 400 people from both the AUC community and surrounding neighborhoods. See links below for specific details about each of these events.
Community Forum No. 1 Materials
Community Forum No. 2 Materials
Resource Links – Service Learning 
Service learning projects give students the opportunity to learn while doing. Service learning activities required a lower level of effort the conceptual plan development and engaged students primarily from Clark Atlanta and Spelman College. Some of these students later worked to develop conceptual plans.  Read more...
Resource Links – Coursework
Using the Green Infrastructure Curriculum Guide, materials were incorporated into Biology, Environmental Engineering (Engineering Design and Engineering Graphics), Environmental Health, Marketing and Sustainable Development classes and presented to over 240 students. As a work-in -progress,  it is anticipated that the guide will continue to be updated.
Other Resource Links
A short summary of program activities and accomplishments appears in the June 2016 blog post, ECO-Action Completes Green Infrastructure at the AUC Project.
A longer summary of program activities, findings, accomplishments and next steps in the August 2016 Final Report, Green Infrastructure at the Atlanta University Center.
Enhancing Sustainable Communities With Green Infrastructure.  The October 2014 EPA Smart Growth guide helps communities better manage stormwater while achieving other environmental, public health, social, and economic benefits. This new publication will assist local governments, water utilities, nonprofit organizations, neighborhood groups, and other stakeholders integrate green infrastructure strategies into plans that can transform their communities.
Save
Save
Save