On March 17th, ECO-Action hosted its first community forum on green infrastructure at Spelman College. About 80 students, faculty, staff and community members attended the forum that was held at the Manley Center.  The 4-hour forum shared information about green infrastructure itself, current green infrastructure projects at Spelman, in Atlanta and at colleges across the United States and asked participants to identify next steps toward promoting green infrastructure at the Atlanta University Center (AUC) campuses. This forum is part of ECO-Action's Green Infrastructure Initiative funded by EPA through the Urban Waters Small Grant program.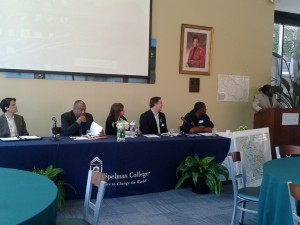 After a welcome to the event from ECO-Action Executive Director Yomi Noibi and a welcome to the Spelman Campus by Nataki Osborne Jelks, remarks were also made by Professor  Olu Olatidoye, Dual Degree Engineering Program, Clark Atlanta University and James Gaittina, the Director of Water Protection of EPA Region IV.
The first element of the forum was a panel discussion moderated by Walt Ray, Park Pride's Director of Visioning, Panel speakers were Tony Torrence, (Vine City), Community Improvement Association, Cory Rayburn, City of Atlanta Department of Watershed Protection,  Michael Mitchell, EPA Region IV, Pamela Flores, HELP.ORG and Shannon Lee of the Conservation Fund.  Presentation topics included: Green Infrastructure and the Control of Stormwater, Green Infrastructure in the City of Atlanta and Community Driven Green Infrastructure at the Lindsay Street Park. Remarks were also made by the Honorable Mable Thomas, Georgia State Representative during the morning session. Michael May of the Chattahoochee Riverkeeper also provided an update on ongoing water quality monitoring efforts in the Proctor Creek watershed.
While the morning presentations provided information from community members,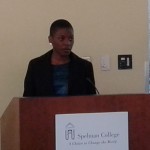 non profits and governmental organizations outside of the AUC, the second part, the afternoon session focused on ongoing green infrastructure projects at the colleges and student initiatives. One of the most relevant presentations was made by Ruth Wangia who talked about green infrastructure at Spelman College. Her presentation highlighted efforts that have been already accomplished to reduce impervious area by reducing pavement, disconnect downspouts from the stormwater system, install cisterns for rainwater storage and reuse and plant rain gardens and xeriscaping. She also noted that a second generation rain garden design which incorporates bioretention is planned for the new wellness center at Green Hall.  She noted that these elements are being incorporated in new projects and renovations upon the direction of the Sustainable Spelman initiative, a coalition of students, faculty and staff seeking to enhance sustainability on the Spelman campus.
Other student presentations were made by Clark Atlanta students, Ogechi Ironidi and Sederra Ross.  Ogechi described a design proposal to install a fountain and cistern system at the "Bird Cage, " a low lying area on Clark Atlanta's campus located north of Fair Street at Elm Street.  Sederra's presentation talked about the current efforts of the Living Green Club to collect trash and recyclable materials. They meet at 3 pm on  Sundays in front of the CAU library and welcome additional volunteers.
She also presented the Club's plan to create the Brianna Ford Revitalization Center as a central work location for the sorting and processing of recyclable materials that would serve all of the AUC campuses.  The Center would be named in memory of Brianna Ford, a Living Green Club founder, who had been killed in a car accident.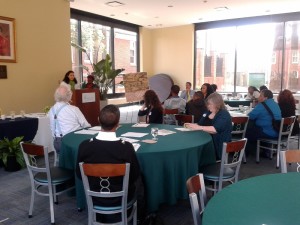 The forum concluded with a small group exercise to identify next steps. The steps identified not only focused on green infrastructure but also looked at efforts toward recycling and trash collection to prevent materials from being conveyed into Proctor Creek. We will be making the summaries of these proposed next steps available on this website in the near future.
Walt Ray noted that the AUC contributes about 22 million gallons of stormwater to the Proctor Creek Watershed. The Vine City and English Avenue communities, immediately downstream of  the AUC have been subject to flooding due to runoff from the colleges and other upstream locations to the east of Northside Drive. The implementation of small and large green infrastructure projects can reduce the AUC contribution to these flooding problems. ECO-Action hopes that though showing affected parties what is possible and connecting AUC students, faculty and staff to the downstream communities members, we will gain the momentum to implement these green infrastructure solutions together.
AUC students, faculty and staff can still get involved in this Initiative which will continue through mid-2016.  Contact ECO-Action for additional information.
Related story: ECO-Action Hosts First Green Infrastructure Community Forum at Spelman